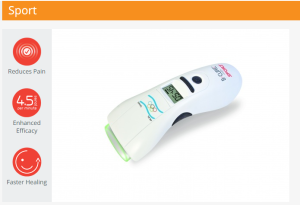 About
B-Cure Laser Sport
Your professional physiotherapist
Medical device for the treatment of sports injuries
There are probably very few things that will prevent you from engaging in your favorite sport, whether it's running on the beach, cycling in a forest, working out at the gym or hiking in the city; you may have a weekly neighborhood basketball game you would never miss! But if you see your friends, active in their favorite sports, and you can't participate due to a sports injury, we have the perfect solution for you: B-Cure Laser Sport - a healthy and effective medical device for the treatment of orthopedic problems and pain resulting from inflammations or chronic and acute sports injuries; with no known side effects.
B-Cure Laser Sport is used by senior practitioners of sports medicine in Israel - sports doctors, orthopedists, chiropractors and physiotherapists in hospitals, at the Wingate Institution, sports associations, and team clinics as well as at private clinics, to assists in rapid recovery and a faster return to sports activities.
B-Cure Laser Sport was chosen by the Israeli Olympic Committee with the backing of the medical staff, as the formal medical device for treating the Israeli Olympic athletes to Rio 2016.
Clinical applications:
Recent and chronic sports injuries
Sore fingers, knees and thighs
Lower back pain
Neck, shoulder and upper back pains
Inflammations
Muscle pain
Cartilage erosion
Arthritis
Tennis Elbow
Achilles tendon inflammation
Muscle sprain / tear
Tendon strain / tear
Ligament strain / tear
Carpal tunnel syndrome
Inflammation of the joints and tendons
Recovering from wounds and lacerations, including surgical lesions rehab
Fresh scars and recovery from surgery
Burns
Advantages:
• Clinically proven
• Effective, healthy and non-invasive treatment
• No known side effects, no possible overdose
• For personal use anytime, anywhere
• May reduce the need for medication
• Israeli Development and Patent
• Suitable for all ages
An excerpt from the professional opinion of Israel's Olympic Doctor, Dr. Luba Galizkaya and Israel's Olympic Physiotherapist Dr. Maya Cale-Benzur, the Ribstein Centre for Research, Sport Medicine and Physiotherapy at the Wingate Institute:
"A 17 year old Olympic athlete (Gymnastics) injured her knee upon descending from the beam. She was diagnosed with an ACL tear (Anterior cruciate ligament injury) and went through surgery to repair the ligament. The young girl then attended the rehabilitation ward for sports injuries at the Wingate Institute for treatment which was based on current, recent protocols for rehabilitation which include exercise to achieve full range of motion, stability and muscular control and monitoring of progress for achievement of goals to meet functionality according to a set schedule for recovery.
During rehabilitation, pain appeared in the external rear aspect of the operated knee, which did not respond to conventional treatments (treatment of tissue by means of soft massage, mobilization, heating-cooling, ultrasound, etc). After a number of weeks of continuous pain which was functionally debilitating, it was decided to introduce use of the B-Cure Laser Sport device into the treatment program.
The gymnast was given guidance for self treatment and started by using the device 2-3 times a day, on the three spots chosen for therapy, 4-8 minutes per spot, simultaneously with the ongoing treatment she had been getting till then.
A week later, the gymnast reported definite improvement in the pain, almost complete relief of the pain she had complained of behind her knee. The gymnast requested to continue use of the B-Cure Laser for another three weeks, twice a day. Approximately two months after the onset of the gymnast's treatment, she reported that upon conclusion of the treatment she no longer suffered any pain at all. She has now returned to full activity."
Human body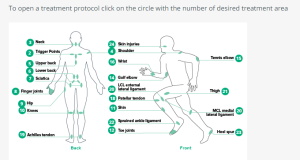 Patients recommendations
Shiran Alalmos
"A number of days from the beginning of treatment, the pain decreased significantly and the sores started to heal"
Noga Einfeld
"I used the device on the inner side of the knee and there was a big difference within a month or two. All the pain is gone"
Amir Blomenthal
"After two weeks of therapy I started to feel better. Morning pain was less, I felt my level of activity rising. a month later all the pain had disappeared"
Adi Baruch
"The treatment brought significant relief from pain (the pain decreased by 70%)"
Chifrot Israel
"As soon as I feel a bit of pain in the knees or joints, I use the device for 10-12 minutes, and miraculously the pain disappears allowing me to continue functioning"
Dan Akeret
"Very quickly, within 3-4 days, I started to feel an improvement and was able to return playing the guitar within two weeks"
Tammi Hadas
"I felt relief and the movement came back to my shoulder almost completely. After a month and a half my hand was completely cured"
Mariane Miller
"This little device saves me. It solved all my orthopedic problems – shoulders, knees, hands feet and back"
David Mollenkduff
"Before I started the treatment, I refrained from walking. Today I walk a short walk every day and I went back to walking to the synagogue"
Bracha Pasternak
"I bought this device a year ago and used it twice for the severe pains I had in my upper back and shoulders. the pain completely disappeared"
Rachel Yehoshua
"I use the B-Cure laser device for everything: pain, wounds, bruises, etc. I recommend it to all my customers, friends and family"
Sara and David Rosenzweig
"The pain in my legs are gone and only on very rare occasion they return. Then I use the device and once again the pain disappears"
Harry Shuman
"Although the pain hasn't disappeared it is much improved and sometimes I go for several days pain-free"
Harold Simon
"My B-Cure Laser is my constant companion as I use it every day, even though I am not experiencing any knee pain anymore"
Sivan Shani
"I heated wax in a microwave and it accidentally spilled on my inner thigh. With B-Cure, the wound had healed much better than anticipated"
Daniel Adar
"I used the pain relief device twice a day according to the instructions. It helped to alleviate inflammation in my gums"
Doctor recommendations
Dr. Balan Edith, pain specialist
"Out of the 25 patients, about 15 had enjoyed the treatment: the level of pain had been reduced from 7 to 4 (on the pain scale). The daily functioning was improved, some of them were even able to return to full functioning."
Dr. Efraim Ben-Zeev, M.D.
"I have found that the treatment with Low Level Laser Therapy intensifies the influence of the needles, especially regarding treatment of localized pain, such as a sprained ankle, tennis elbow, localized shoulder pain, lower back pain, etc."
Dr. Noam Calderon, plastic surgent
"I would like to note that so far I was positively impressed by the healing abilities. There are no known adverse side effect resulting from the use in this device"
Ahuva Dermon, Chief Nurse
"In 5 cases we have treated pains in the joints of the hand. The improvement was nearly maximal."
Dr. Dolinski, dentist
"The patient has used the device successfully to relieve the appearance of pressure ulcers, and locations of festering skin infections"
Dr. Dothan Avraham, pain specialist
"As a Senior Physician and the Director of the Pain Clinic I recommend my patients to use B- Cure Laser, to minimize scarring and to minimize post-surgery scarring."
Dr. Eduard Dvorkin, EEG specialist
"I would like to note the remarkable results from treating with the B-Cure Laser, dealing with pain syndromes from different sources: injuries, wounds, post operation treatment, keloid scars, myofascial pain syndrome, fibromyalgia, herpes zoster neuralgia, joint pain and more."
Dr. Hagai Amir, surgical orthopedist
"My experience of treating several patients with this device, according to the laser's usage instructions, was rather amazing"
Dr. Efraim Norkin, M.D.
"I usually use the B-Cure Laser device for pains in the joints, lower back, hips, and knees. The results are good and fast"
Dr Efron Rosen, aesthetic surgeon
"During my work as an aesthetic surgeon I used the B-Cure Laser following plastic and aesthetic surgeries on all body parts in cases of pain, hematomas, hemorrhage, infiltration and even infections, with very good results."
Videos
http://gd-energies.com/node/223#quicktabs-product_tabs=4
Doses
Treating acute pain
When treating pain from a fresh injury or a burn, it is recommended to treat the injured area as close as possible to the event. Treat the injured area for up to 6 minutes, 10 times consecutively, with 5 minute breaks between the treatments. It is recommended to treat the injured area in fixed time intervals. It is important to carry out the Laser treatment directly on the skin, and not through clothes or bandages. In the case of an open wound, the Laser should be held as close to the wound as possible, without directly touching it.
Even if an initial improvement is experienced, continue the treatment until complete healing is achieved.
Treating chronic pain
At any new treatment point where the pain has been present for over a month, the pain is considered chronic with a high probability for inflammation. In these cases, it is recommended to initially restrict treatment of the area to 1.5 minutes, and increase the time by 30 seconds per day, until the recommended treatment time has been reached. 2 to 4 treatments should be carried out per day, consistently. If an increase in pain level is experienced following the treatment, it is a sign that the body is responding to the treatment, and the desirable process of bio – stimulation of the cells is occurring. In this case, stop the treatment for 24 hours, and restart it with a decreased dosage time. If an increase in pain level is not experienced again, gradually increase the treatment dosage until the recommended dosage is reached.
It is recommended to adjust the dosage to the level of pain experienced, and to continue to treat the area until the problem is solved or an extended relief in pain is experienced, without placing a time limit for each treatment or limiting the treatment period.