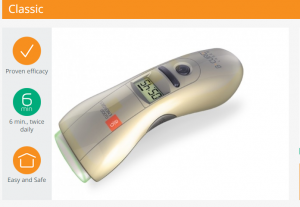 B-Cure Laser
Medical device with the dual effect
Stop the pain & Heal its source
What is B-Cure Laser?
B-Cure Laser is a device based on an Israeli development and patent which has made a breakthrough in the field of soft laser technology. Soft laser treatment encourages healing by stimulating the body's natural cellular activity, strengthening intercellular communication and stimulating blood circulation.
 
The Results:
Reduction of pain and inflammation, while stimulating natural healing and assisting in solving the source of the problem at the comfort of your home, without any known side effects.
 
B-Cure Laser products are approved by the MOH departments of South Africa, Australia, Russia, Kazakhstan, Italy, France and Singapore.
 
Clinical areas and treatment applications (a partial list):
 
Pain, bone or tissue injuries and orthopaedic conditions:
 
• Back pain: lower back, upper back, neck, and muscle pain
• Joints: knees, hips, shoulders, fingers, osteoarthritis
• Rheumatoid arthritis and/or chronic tendon inflammation
• Heel spurs and sprains
• Tennis elbow
• Achilles tendon inflammation
• Carpal tunnel syndrome (CTS)
• Myofascial pain syndromes
• Jaw joints pain – TMJ
 
Medical Dermatology
 
• Acne
• Fresh scars and burns
• Promotes improved and more esthetic healing of surgical incisions
• Herpes simplex
 
Advantages:
 
• Clinically proven efficacy
• Easy and safe for home use
• No known side effects
• Natural, non-invasive treatment
• For all ages and family members
• Israeli patent + IP
Doses
Treating acute pain
When treating pain from a fresh injury or a burn, it is recommended to treat the injured area as close as possible to the event. Treat the injured area for up to 6 minutes, 10 times consecutively, with 5-minute breaks between the treatments. It is recommended to treat the injured area at fixed time intervals. It is important to carry out the Laser treatment directly on the skin, and not through clothes or bandages. In the case of an open wound, the Laser should be held as close to the wound as possible, without directly touching it.
Even if an initial improvement is experienced, continue the treatment until complete healing is achieved.
Treating chronic pain
At any new treatment point where the pain has been present for over a month, the pain is considered chronic with a high probability for inflammation. In these cases, it is recommended to initially restrict treatment of the area to 1.5 minutes, and increase the time by 30 seconds per day, until the recommended treatment time has been reached. 2 to 4 treatments should be carried out per day, consistently. If an increase in pain level is experienced following the treatment, it is a sign that the body is responding to the treatment, and the desirable process of biostimulation of the cells is occurring. In this case, stop the treatment for 24 hours, and restart it with a decreased dosage time. If an increase in pain level is not experienced again, gradually increase the treatment dosage until the recommended dosage is reached.
 
It is recommended to adjust the dosage to the level of pain experienced and to continue to treat the area until the problem is solved or an extended relief in pain is experienced, without placing a time limit for each treatment or limiting the treatment period.