Dr. Shebshewitz Victor
2010
A recommendation letter
In December 2007 we have received a device for treatments at the Pain Clinic at the Rambam Medical Center - a soft low-power laser, the B Cure Laser, from the Good Energies Company.
I have treated hundreds of patients with this device, especially those who suffer from low-back pain, neck pain, joint pain, hand (carpal tunnel) syndrome, tennis elbow, and others.
The above mentioned device was found to be extremely useful
for easing pain.
I have been using a soft laser for pain relief for many years.
I was glad to discover the above-mentioned device, for it enables me to bring in an immediate improvement in the levels of pain, till, sometimes, it disappears completely, with a little portable device, which is especially convenient in use.
Sincerely,
Dr. Viktor Shebshewitz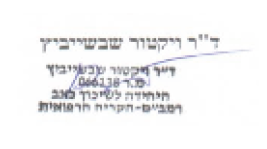 Dr. Viktor Shebshewitz
P.N. 066138
The Pain-Relief Unit
Rambam Medical Centre